Juritex manufactures cord locks in all shapes and sizes. Single or double, transparent or coloured, a cord locker or a cord end. Anything is possible.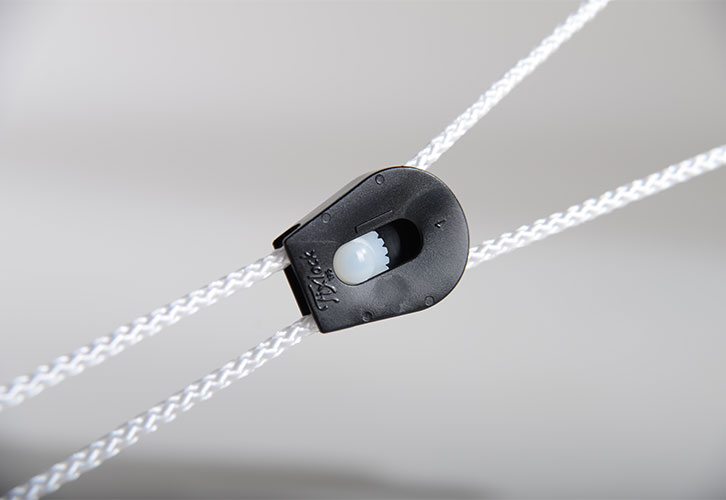 Different cord lockers
Choosing the right cord locker depends on a number of factors. The type of cord used. The diameter of the cord. What the cord lock is used for: just functionality or to stand out. The material of the cord lock: metal or plastic. We are happy to help you with finding the best solution. Just so you have the right product at your disposal.
Want to know more about this product?
Press the button below to fill out the request form.
Request information
Cord lock metal or plastic
A metal cord lock is heavier than a plastic cord lock. The metal also instantly gives a cool, authentic look to the object it is used on. A variety of metal colours are available. Would you still prefer to buy a plastic cord lock? These are a bit lighter in weight and also come in a variety of colours. Both metal and plastic cord lockers have a button on the end and a metal spring on the inside. By pressing the button, you can easily shorten or lengthen the length of the cord, release the button then the metal spring clamps the cord.
Buy cord lock or cord end
A cord lock and a cord end are very similar, but not quite the same. In fact, they have a slightly different function. Both cord locks and cord ends are used to lash (elastic) cord to and/or hold it in place. The spring attached to the lock allows you to make the cord shorter or longer as desired. A cord end, as the name implies, is at the end of the cord and keeps the cord from fraying. For example, a cord end prevents a cord from being pulled into the "tunnel" of a hood.
Juritex, for all your questions
In addition to cord locks, Juritex has a wide range of haberdashery for the textile processing industry. With us you are at the right place for both standard haberdashery and custom solutions for a variety of industries. Thanks to our modern and extensive range of machinery, we offer an incredible number of possibilities for quick custom solutions. With our years of experience and extensive knowledge of materials, we would like to think along with you at all times and provide you with sound advice. For example, do you have a question about cord locks or another product? Then please contact us. We would love to help you!