Visit Juritex for the best solutions in elastics. We advise, develop, and manufacture all kinds of haberdashery such as elastic for different products and industries.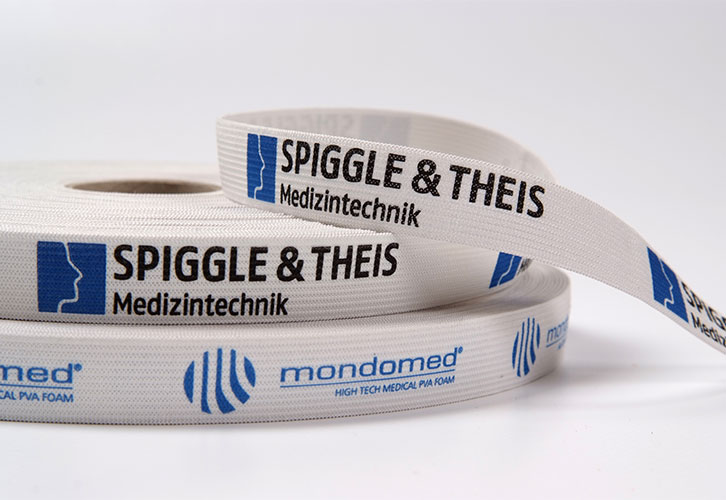 Haberdashery elastic from Juritex
Elastic tape is one of the haberdashery products produced by Juritex. We produce elastic tape for various products such as ironing board covers, beach banners, fitted sheets and shoes. It is also possible to display your company name or logo on the elastic tape. We can print your text or weave it into our elastic tape. Choose any size and colour you wish. We produce elastic tape from 3 millimetres to 350 millimetres wide and the range of colours is infinite. Any colour is possible. Do you have difficulties finding the right colour for your elastic tape? We are happy to think along and help.
Want to know more about this product?
Press the button below to fill out the request form.
Request information
Engineering
When producing haberdashery such as elastic, we combine your requirements with our advice on application, use, wear resistance or washability. In fact, all these aspects determine whether the elastic product should be woven, braided, or knitted. Then we will discuss with you whether there is a preference for natural rubber or a synthetic rubber. In the manufacturing process, this is eventually combined with polyester, polyamide, cotton, or another raw material to produce a finished article. In doing so, we constantly keep your needs in mind.
Printing on elastic
To increase the visibility of your brand, Juritex allows you to have haberdashery such as elastic printed. It is possible to have your elastic printed with your own text or logo, in any colour. In addition to printing, you can also personalize the elastic by having your logo or text woven in. This ensures that your brand name or logo is stylishly displayed and the text on the product is permanent.
Elastic and other haberdashery
In addition to elastic, Juritex has a wide range of haberdashery for the textile processing industry. Furthermore, our own extensive machinery gives us the capabilities to always offer a fast and direct customised solution. At Juritex, we are always ready to think along with you or to answer any questions you might have. You might for example have a question about which type of elastic you should use, how you can best personalise the elastic or which technique we can best apply to your product? Don't hesitate and contact us! We are happy to share our many years of experience and extensive knowledge of materials with you and to work with you to achieve the best results.