Velcro comes in a variety of shapes and sizes. It is a clasp or connection that you can pull loose and consists of two layers: a "hook side" and a "loop side". The hook side consists of a piece of textile with very small hooks and the loop side is covered with even smaller, hairy loops. By pressing the two layers together, the hooks will hook into the loops, and you have a closure. Pulling the clasp releases the characteristic ripping sound. The product can be applied to many different surfaces. At Juritex, we're happy to work with you to see what application of Velcro might be the right one for you.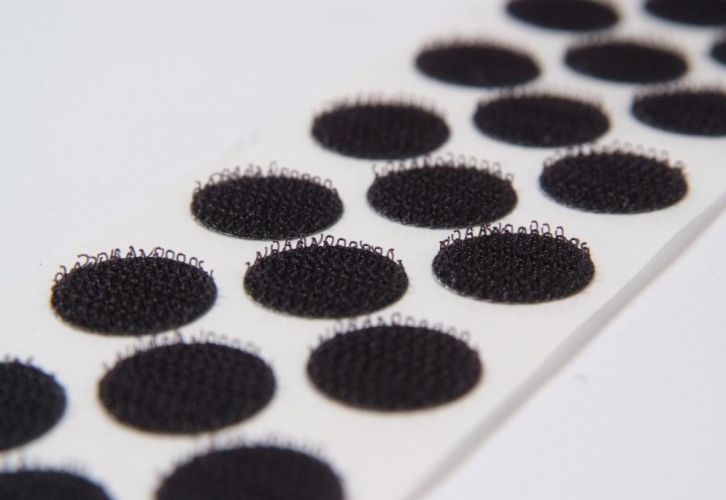 Applications of Velcro
This product is mostly produced from polyamide or a mixture of polyamide and polyester. The strength of a Velcro joint depends largely on the width of the surface. The most common widths are 16, 20, 25, 30, 38, 50 and 100 millimetres. If you would like to have a stronger or a weaker Velcro joint, we can also make the surface narrower or wider. In terms of colour, we mainly produce in white and black. Do you prefer the product in colour? That's no problem either, we can always provide quick custom solutions.
Want to know more about this product?
Press the button below to fill out the request form.
Request information
Applications
We produce Velcro by weaving the product. After that it may be necessary to glue with different adhesive layers. This depends on the application and surface. We create this product for various applications such as : shoes, workwear, tents, bicycle bags, sew-on Velcro tape, self-adhesive Velcro tape, coins/rounds, technical applications, straps and cable ties. We can produce a solution for virtually anything that needs fixing. Do you have an application where this product could be the solution? We like to think along. The possibilities are endless!
Plastic hook tape
A plastic hook tape is an extruded plastic film. Extruded hook tape is a very flexible, soft, smooth and economical type of velcro. The counterpart can be made of different materials, such as vor non-wovens. Extruded hook tape is often used in the medical sector for example on bandages. The product is usually glued on but is also sewable. The hook is available in different sizes. We also supply a variant where this hook strap has a premium velour backing, creating a back-to-back version.
Contact
Thanks to our state-of-the-art machinery, we offer an incredible number of possibilities for quick customised solutions. In addition, due to our years of experience, we can also think along with you at all times to find the right solution for your problem. If you have, for example, a question about what type of Velcro is best to use, what width or what colour the product should be? Or do you have a question about another product? Please do not hesitate to contact us. Our extensive knowledge of materials enables us to support you at all times and provide you with sound advice. Anything to make you as a customer happy.