Are you looking for a product to secure or tension, for example, tarpaulins or nets? Then use the EPDM rubbers from Juritex! Herein you can choose from loose tension rubbers or tension rubbers with hook.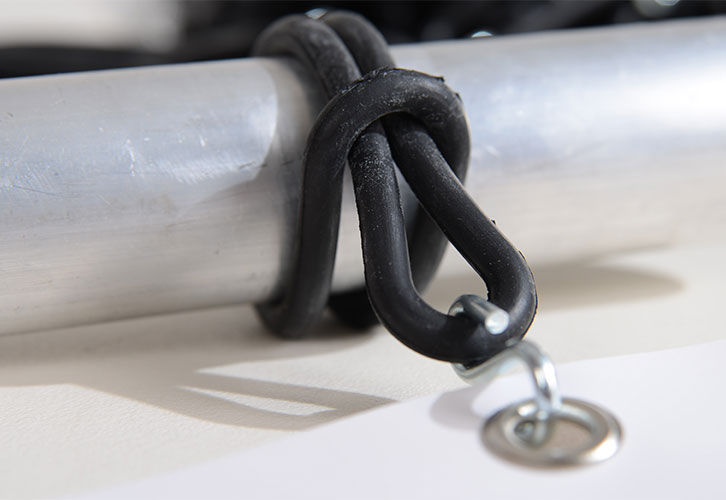 Tension rubbers from Juritex
With a EPDM rubber from Juritex, you are always assured of a secure attachment. The rubbers are of excellent quality and made of EPDM. You have a choice of tension rubbers of different sizes and for different applications. In addition, you can also choose to use EPDM rubbers with hook. The hook allows you to easily attach the rubbers. If we do not have the ideal length in stock for you, we will make sure it is custom made. With our own machinery, we can always provide a quick custom solution.
Want to know more about this product?
Press the button below to fill out the request form.
Request information
Tensioning rubbers with hook
A tension EPDM rubber is easily combined with an S-hook. This simplifies the attachment of the tension rubber. This is ideal if, for example, you need to secure an advertising banner, a tarpaulin or a cover for a longer period of time. Or are you often driving around with a trailer full of goods? A net or tarpaulin is required to be placed over the trailer in this case. Such a net or tarpaulin must then, of course, be properly attached. For this purpose, the tensioning rubbers with hook are ideally suited.
Juritex, for all your questions
In addition to EPDM rubbers, Juritex has a wide range of haberdashery for the textile processing industry. You can contact us for both standard haberdashery and customised solutions for various, diverse industries. But Juritex is more than just a large inventory and a wide range of products. Service and customer focus have been our top priority since Juritex was founded. Our biggest goal is that the customer is satisfied, that's what we do everything for. We are therefore happy to share with you our many years of experience and extensive knowledge of materials. In addition, you can contact us at any time for sound advice and we are always willing to think along with you. So do you have a question about one of our products? Then please contact us and we will be happy to discuss the possibilities with you in order to achieve the ultimate final product.